5. Sara Quin and Stacy Reader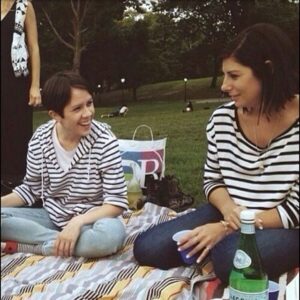 This is a lesbian website, so I probably don't need to go through the trouble of introducing Sara Quin, but for those of you who don't know this incredibly important piece of information, Sara is one half of the band Tegan and Sara. She has been dating Stacy Reader since 2012. While there are loads of pictures of Sara and Stacy being cute together, there really isn't much else that you can find out about them on the internet. However, back in 2013, fans frequently spotted them hanging out in New York City together. Stacy and Sara have also been the subjects of a few works of fan fiction.
4. Be Steadwell (B. Steady) and Asha Santee
Be and Asha are both very cute, very talented musicians. Just watch the video below:
3. Jenny Owen Youngs and Kristin Russo
Kristin makes up one half of EveryoneisGay. She uses that platform to give advice to LGBT people and to lip sync to a bunch of songs. Jenny Owen Youngs is a musician who writes a bunch of songs. You could say that they are a match made in heaven. The pair got hitched in 2013 and they currently live in Los Angeles together.
Edit: Kristin now identifies as bisexual. She's still married to Jenny.
2. Jade Rayelle and Vanessa
Jade a.k.a Foxyhotmess is one of my favorite YouTube personalities. I took the above photo of her and her girlfriend Vanessa when I went to one of her Meetups last year. Speaking of meetups, Vanessa and Jade first saw each other at one of those. Vanessa was a fan who drove several hours to see Jade and Hart (another YouTuber). She brought them cupcakes, and Jade was clearly very drawn to her. The two entered into a long distance relationship soon after. They have now been together for two years, and are currently making plans to move to LA. Moral of the story is: go to more meetups, and bring cupcakes.
1. Jaime Palma and Tanis Clark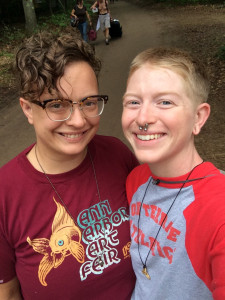 Jaime is a body builder who runs a website called Amazon Strength. Tanis is an artist who will soon start publishing some of her original comic strips here on Lesbians Over Everything. Jaime and Tanis met two years ago in Chicago and quickly fell in love. I didn't think that any two people could be so well suited for each other until I met them. If I ever get doubtful about the existence of true love, all I need to do to is look to them. They give me hope. Jaime and Tanis currently live in Florida with their two cats (Sunny and Iffy) and two dogs (Owen and Dayton).