Natalia Leite answered the prayers of hundreds of lesbians around the world when she wrote and directed a film featuring Glee star, Dianna Agron  as a woman who falls in love with another woman.
Agron plays the role of Sarah, a small town girl who is deeply unsatisfied with her life. She starts off working as a clerk at a grocery store and dating some guy whose idea of sex is a thirty-second romp in the backseat of his car.
It is at this job that she first spots Pepper (Paz del la Huerta), a disheveled woman who is standing in an aisle and eating a bag of chips that she has no intention of purchasing. Pepper places the bag back on the shelf when she notices that Sarah has been watching her. Sarah looks away and keeps on walking.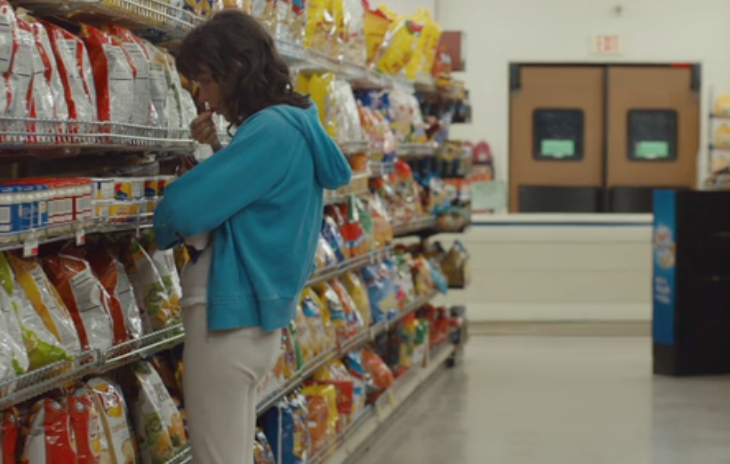 She has another encounter with Pepper when she goes to an abandoned store that used to belong to her father. It looks like it has been closed for years. She picks up the "For Sale" sign in front of the place and chucks it into a bush. She heads in to find Pepper asleep on the couch. Pepper offers Sarah a drink from her flask, and then the two talk a little bit about themselves.
What is it about Pepper that draws Sarah in? Perhaps it is lust or maybe mere fascination with a woman who is so unlike herself. Either way, Sarah is back at the store a few hours later telling Pepper that she can stay another night if she wants, and quietly asking her if she wants to see a movie and drink some beer. Pepper has a better idea. She takes her to Reno, where they trick a man out of some money and sneak into a pool for a late night swim. Pepper mentions that she works at a place called The Blue Room. Sarah recognizes that as a strip club–probably because it's the only one in her town–and asks Pepper if she is a stripper. She says she "bartends", but her actual job involves providing the strippers with drugs.
In the next scene, Sarah, who has been fired from the grocery store and is now working another dead-end job, goes to The Blue Room to find work. However, it is clear that she's mostly there so she can be around Pepper. Another stripper makes her snort something before she goes out on stage. It is the first time she's ever done drugs.
A man hollers "take your top off, sweetie!" before he resumes eating his drumstick.
Pepper spots Sarah and invites her out of town for the weekend. She doesn't tell Sarah the real reason she wants to leave for a while–some guy she owes money to has been coming around the club in search of her.
She takes Sarah to her favorite place. It's an open space in the desert. At night, they sit on a blanket and look at each other intently before Sarah whispers "I like you." Pepper says "I like you too." And then in a move that surprises me, Sarah leans in and kisses her. She kisses Sarah back, and then they have sex right there in the desert with the headlights from Pepper's car shining down on them.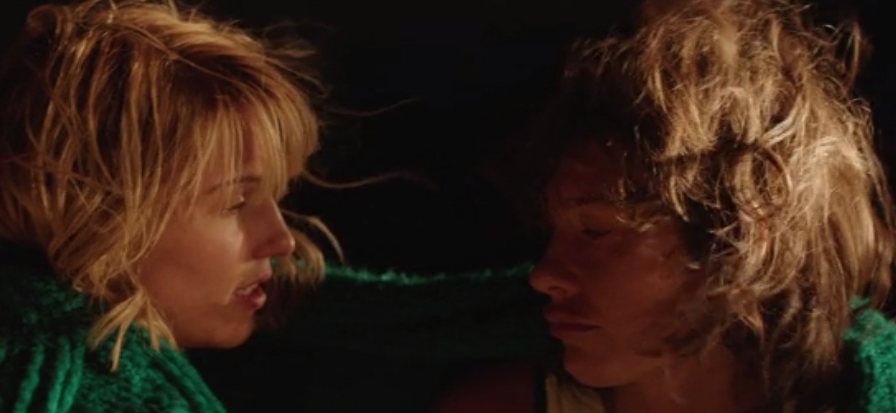 Sarah continues stripping and spending less time with her friends and boyfriend. He asks her if she's cheating on him because she's never around anymore. She tells him that she lost her last job. He offers to have her work for and live with him. She pulls away and says that they want different things. He yells. She leaves him and walks to the store to find Pepper.
---
                                                        "I feel like I can do anything with you"
---
With all the naïveté of a woman in love for the first time, Sarah asks Pepper to leave town with her. When Pepper tells her about the guy she owes money to, Sarah pulls out all the cash that she has saved from her time at the club and gives it to her. They make plans. Pepper would pay the guy off, Sarah would dance at the club one last time to get some extra money, and then they would leave town and be together.
None of it goes as planned. The man is unsatisfied with the amount of money Pepper presents to him. This leads to a fight that gets both of them thrown out of the club. Sarah runs out to defend Pepper. The man pulls out a gun. Pepper takes off in her truck. Cop sirens blare. Sarah's friend and ex-boyfriend show up (someone told them that they had seen her there.)
After her secret life has come to light, she has a choice to make; stay with the familiar, the boyfriend, the family, the town, or run away with this woman who can't be trusted to stick around… or maybe do something else entirely. What choice does she make? You'll have to watch to find out.
Bare felt a little rushed and unrealistic in some regards, but what it got right is its depiction of what it feels like to be young, naive, and in love for the first time.