Love triangles just don't cut it when it comes to describing the complexity of dating in a small lesbian community. Enter: Lesbian Love Octagon, a musical comedy about dyke drama.
Lesbian Love Octagon had two runs in New York, before coming to Los Angeles earlier this week for a one-night only performance. The show quickly got sold out, and I gave myself a pat on the back for buying tickets early.
Set in the 90s, on the Lower East Side of New York, Lesbian Love Octagon focuses on Sue who has just been dumped for Jerry, her former girlfriend who now identifies as a trans man. Sue wonders if her girlfriend left her because she wasn't butch enough. She spills her sorrows to Wendy (another one of her exes), but Wendy's main concern is her current girlfriend's annoyingly close friendship with her ex.
Wendy complains about her girlfriend's ex in a catchy tune called Ubiquitous Ex-Girlfriend
They email ten times a day. How can they have that much to say?… She still tells her what to wear, and on our dates, she's always there.
Sue continues her downward spiral. At one point, she has a nightmare in which she relives all the times when she got dumped by each of her exes. They each sing some version of "Sue, it's not you, it's me" before leaving her.
Eventually, Sue realizes that she is better off without her self-obsessed, lying, cheating, ex-girlfriend Darla. She reaches a moment of clarity, and naturally, she sings about it.
It was great! The play could have ended there, but we got treated to one more scene. Open mic at the lesbian bookstore. Lea DeLaria (Orange is the New Black) made a surprise appearance as a very angry slam poet.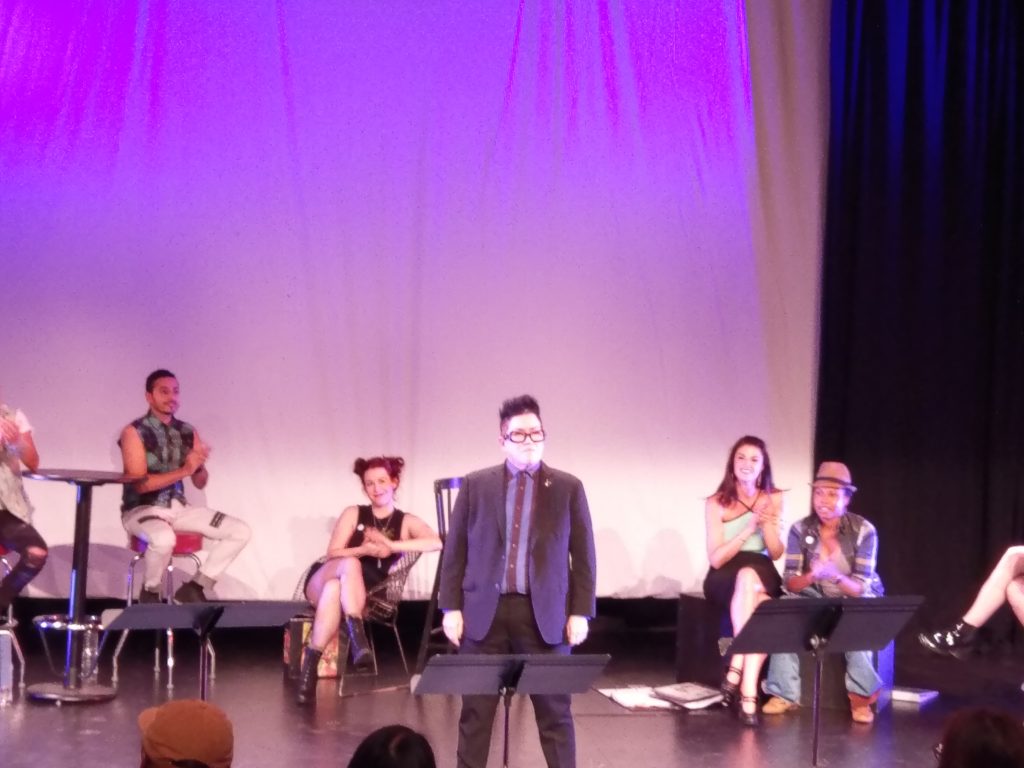 After that, a woman who had been in love with Sue all along (played by Julie Lake from Orange is the New Black), got on stage, sang to her, and confessed her love. In real life, that would have been creepy as fuck, but it's a lesbian musical, so I'll allow it. All that matters is the fact that Sue finally got a happy ending.
Lesbian Love Octagon was hilarious, and getting to see a musical with so many lesbian characters was a dream come through.