Description: Local lesbian goes out and sees what her city has to offer. Local lesbian writes about it.
---
Dyke Day LA is a cool, fun, and free alternative to LA PRIDE. It is sponsor-free, organized entirely by volunteers, and has been in existence for nine years!
My friend and I arrived at Elysian Park at 2pm on Saturday June 11th for the event. My guess at the percentage of each group that was present is: 80% women, 15% dogs, and 5% men (allies).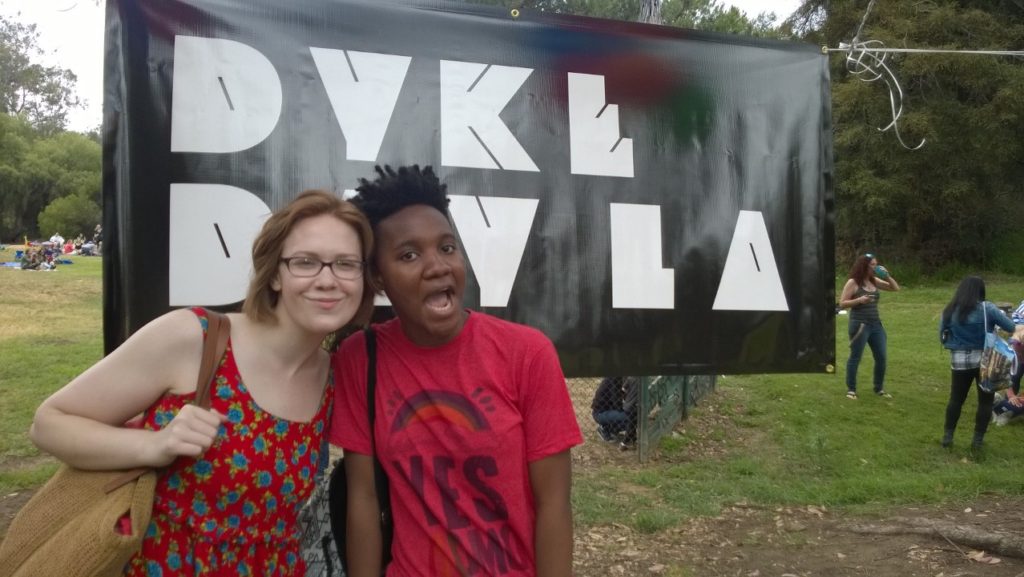 We checked out the booths. At the first one, we were asked to write one thing we love about ourselves on a white board. I wrote "hair." She went with freckles. Next, I said hello to the nice ladies from Black Lesbians United.
Later, we were joined by two other friends. We got some food, participated in a water balloon toss, met Anne Ramsay from The L Word,  did the "wobble," (badly) and hung out until it ended at 6pm.
Maybe it was the chill vibe of the event or the fact that my friends and I were able to casually start conversations with more than one celesbian, but I had a great time at Dyke Day and I'm certain I'll be in attendance again next year. My experience at LA PRIDE in West Hollywood dulls in comparison.
You can support Dyke Day LA by making a donation via PayPal or by volunteering the next time it comes around.