Founded by Morgan Faye in 2012, Lezathlon is one of the world's biggest lesbian sporting competitions. Some years, the event is held in the form of a summer camp that takes place over a three-day weekend, and other years, they cram all the activities into an intense 8-hour long competition.
This year, Lezathlon LA took place in Elysian Park. I gathered up a team of misfits (pretty much any woman I knew who wanted to participate), and created the team "Dyke Drama".
We were up against 12 other teams, and some of them were pros. "Nipple Confident Women" was comprised of an entire kickball team, and "Soccer Baes" were a soccer team. Other teams included Dick Dodgers, Lezbi Legends, Multiple Scoregasms, and Butch, Please.
The first event was the obstacle course. It required at least 10 participants per team. It started off with a sprint, which led into a potato sack hop, then there was a wall to climb over, followed by the crab walk, the dead man's roll, and a sandbag haul in that order. The next person had to do a bear crawl, and then tag the person who would do the ball waddle. Next there was the army crawl, the firewoman carry (which required two people), and finally a wet t-shirt contest where you'd take your shirt off, soak it in water, put it back on, and then fill up a cup that was a few feet away using only the water from your shirt.
The obstacle course was absolutely insane! The team who came in first got 30 points, the team in second place got 20 points, and the team in third place got 10. Most of us gave it our all, but as you can probably imagine, Dyke Drama didn't score any points in this challenge. Given the fact that only three out of thirteen teams had any points at all, we were in good company.
Next up was the wheelbarrow race, which we also didn't place in.
Then there was oil-wrestling, which was both fun and terrifying to watch.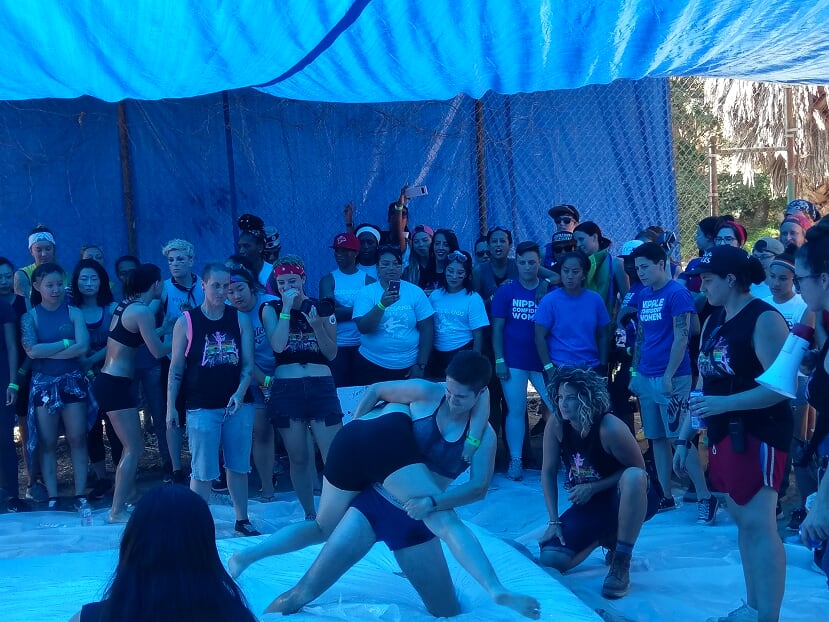 After oil-wrestling, we got a well-deserved break, and had a little dance party.
Next up was trivia, and I'm proud to say that Dyke Drama dominated this category. There were questions about Pop Culture, Geography, History, and Science, and we were nerdy enough to know most of the answers. As first place winners, our prize was fittingly a huge bag of Nerds.
Hungry Hungry Lesbos was the next challenge. The goal was to collect as many plastic balls as possible while being pushed face-down on a dolly.
The last event of the day was Tug of War, and after participating in that, I never want to look at a rope again. My team held our ground for a long time, but eventually, our arms gave in, and we lost.
When it was all said and done, Soccer Baes had the most points overall, and so they were the champions of Lezathon LA 2018.
If you're a lesbian who likes to compete, you HAVE to participate in Lezathlon when it comes back around next year. If you're not cut out for the lesbian eat lesbian world of the event, you could always attend as a spectator. Go to Lezathlon's website for more info, or follow them on Facebook to get notified about upcoming competitions.