OUTFEST is an eleven-day LGBT film festival that takes place in Los Angeles every summer. Due to the COVID-19 pandemic, things were done differently this year. Over a hundred films were made available online at OutFestNow.Com for a limited time, and some films were shown as drive-in experiences. Of all the films I saw, these three stood out because they were really well done, and they featured lesbian characters.
---
COCOON (2020)
Writer/ Director: Leonie Krippendorff
Running Time: 1 hr, 35 mins
14 year old Nora is at the center of this beautifully-told coming of age story. The film follows Nora as she realizes that she's attracted to women, falls in love for the first time, and develops her own sense of style and identity during a hot summer in Berlin.
What is most refreshing about this film is that Nora doesn't waste any time agonizing over her same-sex attraction. She doesn't attempt to date boys or deny who she is. She simply asks questions to find out if other people feel the same way. At one point, she asks her sister, Jules, if it makes her feel happy when her female friend, Aylin holds her hand. When Jules says "sure", Nora responds with "so what do you need David for?"
Cocoon felt authentic at every turn. Krippendorff's writing and direction were spot on. The world needs more films like it.
More details about Cocoon can be found HERE.
STRANGER INSIDE (2001)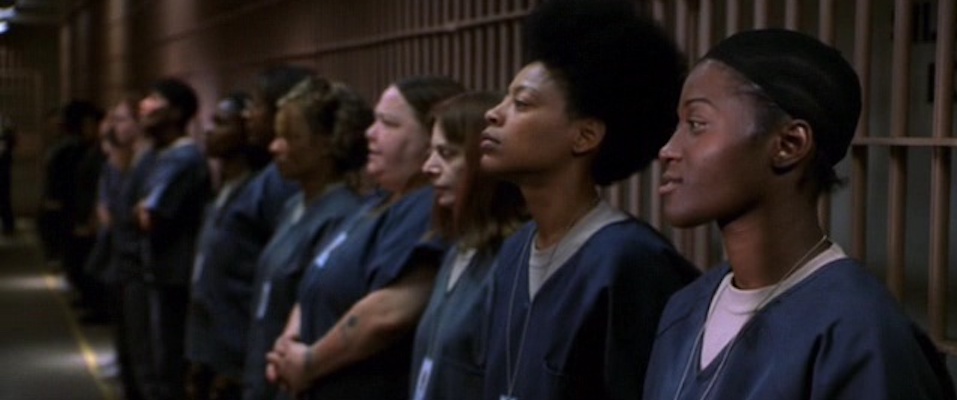 Writers: Cheryl Dunye and Catherine Crouch
Director: Cheryl Dunye
Running Time: 1 hr, 37 mins
Originally released in 2001, this made-for-TV drama is about, Treasure, a strong-willed young woman who intentionally gets herself transferred from juvie into a women's prison, so that she can meet her estranged mother.
Informed by Dunye's collaboration with actual inmates, this film gives viewers a realistic look at life inside a women's correctional facility, as well as the struggles that ex-convicts face when they are newly released.
At its core, Stranger Inside is about searching for connection, looking for some missing piece that will finally complete the puzzle that is your life. It's compelling, it's relatable, and it's definitely worth the watch.
The full movie is available for free on YouTube.
TAPE (2020)
Writer: Shuhan Fan
Director: Jojo Erholtz
Running Time: 13 mins
Love conquers all in this cute short film about two female hockey players who are being kept apart by their coach, who also happens to be the father of one of the girls. In the end, Rooney ignores her coach's demand for her to remain on the bench, she scores a goal that turns things around for her team, and she gets her girl. It's adorable.
Tape was awarded a special mention in the U.S Narrative Shorts category at Outfest.